Pun intended.  We're chugging along on the kitchen renovation.  When I say chugging along, I really mean we've been spending money.  So far, we've purchased clearance hardwood flooring, ordered a custom apron front stainless steel sink, a range hood (details to come, it should be here this afternoon), and now a beautiful stove.
Because we're knocking down the wall between the kitchen and living room, we'll need a low profile range.  To maximize the space, we chose an all-in-one slide-in range.  At first, we thought we'd buy a GE Cafe dual fuel range, to the tune of 2700 bucks.
It has six burners, a large oven, and the lower drawer is another oven.
Ben researched ovens more and stumbled upon the KitchenAid Pro Line dual fuel beauty for $2250.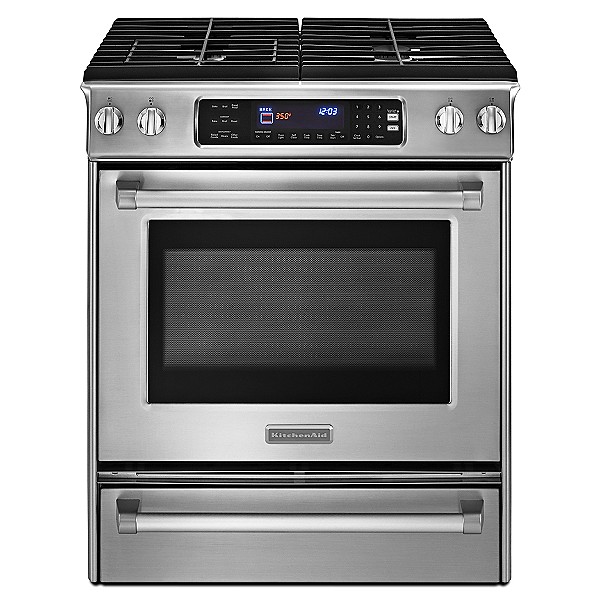 At first, I thought it was a down grade.  Only four burners and the lower drawer is only a warming drawer.  Boo.
Ever the researcher, Ben started looking around town.  A local shop gave him a price quote of $2044.40.  That's better.  Trying to save even more money, Ben asked about Sears' price match policy, thinking they would match and beat by 10%.  Sears can only beat competitors by 10% on in stock items.  Our range is a custom order.  However, they were happy to match the price.  So, we ordered the range on Wednesday, September 28.  We should get it October 11th.  If this were a fairy tale, we could have lived happily ever after; perfectly content by saving nearly 700 dollars.
Luck be a lady, on Sunday, I happened to check the Sears website to get a link for this post.  That's when it happened.  Sears had a one day Family and Friends online sale, including 15% off appliances.  The list price of the range was $2204.99.  Subtract 15% and our range was on sale for $1874.24.  What?!?  I showed Ben.  We decided it was worth a shot to call Sears to see if they would honor the sale price.  After very little trouble, the sales rep agreed to credit us $170.16.  I'd say saving $824.86 over the GE, or $625.75 over the list price of the KitchenAid is no down grade.  It was fate.  We were meant to buy this range.  Let's hope we love this baby.  No, we haven't seen it in person…
As if that weren't lucky enough, that same day, I went to Wal-Mart.  (That's not the lucky part.  I loathe going to Wal-Mart)  I went to buy a gallon of cheap paint to test cabinet colors before we spent $50 per gallon for the good stuff.  I ordered Wal-Mart's brand, Color Place and finished my shopping.  When I went back to grab my paint, I saw it was a gallon of Better Homes and Gardens paint, by Glidden.  Apparently, Wal-Mart didn't have any satin Color Place paint, so they gave me the Glidden gallon, normally $21.97 per gallon, at the Color Place price, $14.27.
Sunday night, Ben painted some of the color on the cabinets, which I showed yesterday.  Monday morning, I checked to see if I like the color.  I did, so I went back to get three more gallons.  (We're planning to paint the interiors of the drawers and cabinets with this paint to save a little more money.)  No new shipments of Color Place, so three more $22 gallons for $14.27 each.  That my friends, is how we saved more than $200 ($200.96 to be exact) in 24 hours.  I'd say that is better than Black Friday.
What's your best deal?  Have you lucked out on an appliance sale?  Maybe you've used the same gray we're using?  Sherwin Williams Pewter Tankard, anyone?