Our kitchen is officially back to a fully functioning condition.  All because we installed the dishwasher that arrived yesterday.  After plenty of online research and in-store visits, we decided on the KitchenAid Classic Series dishwasher in stainless.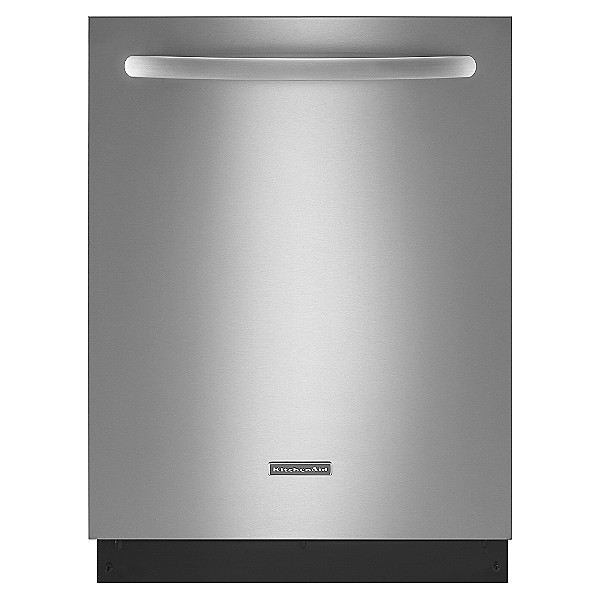 We like that it has the stainless tub interior, hidden controls, some adjustable tines, and an adjustable upper rack which they claim can hold full-sized plates.  That would be cool, but we haven't tried.  After all, we just installed it.  Originally, we thought we'd end up with a LG, but Ben didn't want to pay their higher price.  The normal price of this KitchenAid is $799.99, but thanks to a Columbus Day sale we got it for a mere 513.89 bucks.  Also known as 36% off, which is actually better than our smokin' good deal on our range.  Thank you Columbus for discovering America.
Ben picked the dishwasher up from Sears yesterday afternoon and installed it after work.  Installation was easy.  Add a hose, an electrical cord, plug-in this, clamp that.  But we do have another problem.  Do you see it?
Ahh, we built the cabinets 1 1/4 inches too tall.  Gah.  I guess we were in a hurry to get the kitchen started and forgot to measure our old cabinets.  Apparently 36 inches is the standard height including a counter top.
Oh well.  We gained another inch of cabinet space.  And it's nothing a piece of trim can't fix.  It just makes it easier to see the hidden buttons right now.
I've never had a dishwasher with hidden controls, but I'm nerdy excited about it.  Now I just have to re-learn how to load this reconfigured dishwasher.  Ha.
Now you're 100% up to date on the kitchen status.  Hopefully I won't be able to say that come Monday.  Have you ever made a silly rookie mistake?  How'd it work out in the end?  Maybe this is for the better because the trim will be a better match to the drawer stack on the other side of the sink…