Well, we've got a winner of one custom Curiously Wrought art piece…Michele!
Michele hates the word flesh.  Like so many of you, I can't stand the word moist.  Seriously people, can't you just say damp?
And how about a round-up of my favorite recently pinned home items?  Why yes, that sounds like a great idea.  And yes, these are all inspiration for the new house.
West Elm's Chester Tufted Sofa
Clean lines and reminiscent to the Chesterfield.  I'll take one.  Or two.
Pottery Barn Teen's Lattice Rug
I've wanted to add more patterns to our current house, so why not in the new house?
Patterned curtains are also on my 'must have for the new house' list.
Restoration Hardware's Steel Polyhedron Pendant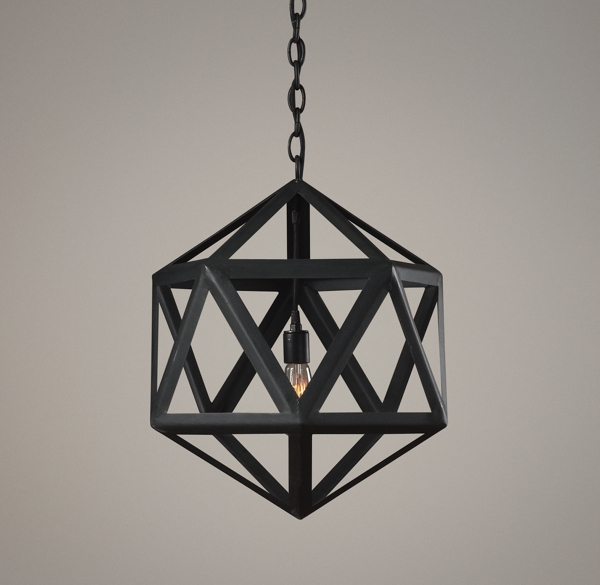 This is the first pendant Ben and I have actually agreed on.  Ever.  We can't afford it, but maybe one of us can make something similar…
We'll probably have a few(!) bare walls, and this had me at hello.
With a bigger house, we'll also need more, and bigger rugs.  The want to put my toes on this rug.
West Elm's Mercury Glass Pendant
Just pretty.  Either for a kitchen or in a bathroom.  Oh yes, I said bathroom.
Herringbone patterns are my weakness.  Fingers crossed I can convince Ben to install herringbone tile somewhere in the new house.
That's where my head is at regarding the new house.  A little more sophisticated, less traditional, and sculptural.  Of course the new house will evolve just like our current house has.  Nothing is going to happen over night.  There's no guarantee any of these specific items will make it through the front door, but it's fun to dream and scheme.
Care to share your favorite recent pin?  Who's excited to see the new house?