Our basement bathroom is sort of boring.  Lots of beige and white with some green.
I want to change that, but we're not replacing the floor or repainting.  So, how can we add character without hours of work?  By adding interesting elements, like cute deer hooks for towels, and color, of course.  You probably already guessed which color we chose to add based on the post title.  If you're dense, we chose peacock blue.  Why?  Because blue and green look great together and the adjacent theater room is sea blue/green.
This all started with a harmless trip to Ikea in December when I snagged a set of three Limmaren bottles.  We use the clear bottle in our bathroom for mouthwash and love it, so I decided to fill the blue bottle up for the basement.
For another splash of peacock, I bought a three dolla hand towel from Target.
So far, so good.  I still have to convince myself Ben to paint the mirror a similar shade.  I have no qualms about painting the mirror, because I definitely don't like the current finish.
But, do I use spray paint with limited options?  Maybe the same color we used for the shelving?  Or a more boring route, ORB to tie in with the other fixtures?  Or old-fashioned latex for a custom color?
I have about 10 ideas swirling in my brain for art, but I need to try some things out to see what I would like best in the space.  I know I want something long and narrow over the bath tub, but would it look strange to have another long, narrow piece over the toilet, sitting on the shelf?
That blank wall to the right of the toilet bugs me, but eventually we will finish the steam shower under the stairs so a door will swing out toward that wall.
More color to come, but I haven't decided on other items.  This rug from Urban Outfitters is fantastic, but could be too busy in the space.  And it's a simple cotton rug and Ben would hate that it doesn't have a non slip backing.  However, the size and price is right.  You know what they say, "If the rug boot fits."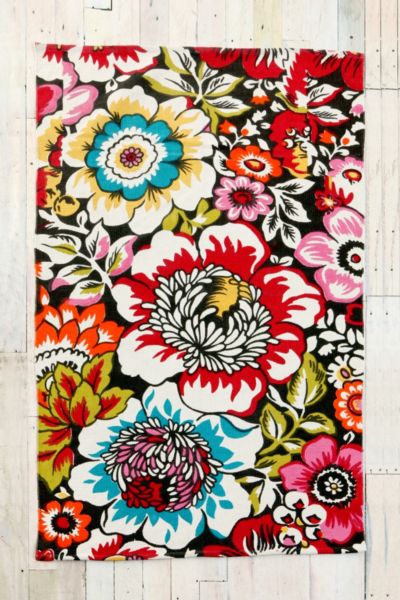 Usually a shower curtain would add a ton of color, but we don't need one because we have a tub only.  However, a small window sits above the bath tub.
 The window is the same size as the other small windows in the bedrooms.  Could we treat is sort of like the window in the basement bedroom?
Would it look odd to hang a boldly colored, fun patterned curtain there?  While I'm showing you the basement bedroom, you should know that they saw some changes yesterday.  I'll share more on that next week.
What would you do?  What other ways do you add color to a bathroom?  Any art placement ideas?  How much is too much in a bathroom?