Happy Easter Friday, everyone!  Are you looking forward to the weekend?  We are!  My family is coming in today to spend a week with us.  And our weather is finally warming up.  Bring on spring!  Which is the inspiration for today's post.  But first, the winner of the Lamps Plus giveaway is Elizabeth G!  Congrats and have fun picking out pretty lights.
Spring is my favorite season.  The fresh green leaves, warm, sunny skies, and bright flowers.  Though our weather has warmed up a little, we still don't see signs of spring.  Instead, I brought some in the house with a brightly colored floral fabric I found at Hobby Lobby.
I love it paired up the nearly citron green pillows.  I can't find it online, so I thought I'd share a few other favorite floral fabrics.
Tangerine and pumpkin large floral:
Perch in Seaglass by Thomas Paul: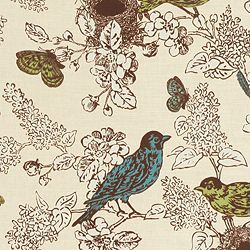 Spoonflower has pretty, modern florals galore.  My favorite is the Garden Lark:
Or you can create your own fabric print.