Over the past several years, I've seen so many cool baskets.  Metal, wicker, fabric, or leather, I like them all.  So useful, almost everywhere.  I was especially intrigued by a clever folding basket design.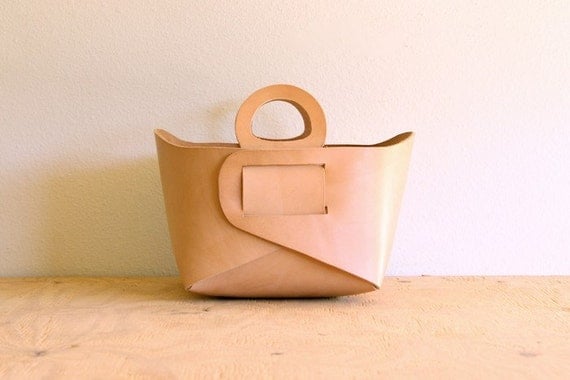 A brilliant origami-esque design uses slits to hold the shape without help from other materials.  No sewing, snaps, buttons, zippers or anything of the like.  Wanting a basket to store magazines, I used iron on interface (essentially a sheet of hem tape) to fuse two pieces of fabric together and prevent fraying.
Before cutting, I created a template on Kraft paper.  The areas inside the white show one-quarter of the design.  Just flip to make the other sides.
With my template ready, I traced it onto my fabric, cut, and put the handle through the tabs.
Instant no sew basket, albeit a floppy one.
Honestly, it does keep my magazines contained, but isn't anywhere near rigid enough to carry.  If you make your own, use a few more layers of fabric.  The stiffer/sturdier, the better.
After this basket failure, I dug in Ben's leather cache and found a thick, saddle/belt type leather.  He said he didn't need it, so I made a leather tote to store newspaper.
Same process, but the heavy leather is perfectly sturdy and oh so handsome.  A welcome addition to our fire supply area, now that temps are dropping.