Our recently remodeled laundry room is almost a square, with cabinets on either side of the door.  This arrangement left a blank wall directly ahead, desperately screaming for something colorful.
I briefly hung a custom flag there, but decided it worked better in the hall, so the wall was empty again.
While getting the Halloween decorations out of our crawl space storage, I also rummaged through bins of the boys' baby clothes.  I pulled out the baby blue two piece outfit they both came home from the hospital in and another favorite I forced them to wear.  I'm not really one for theme-y decor, but the tiny clothes were far too cute to continue to hide away in storage.  Fortunately, baby clothes are small and fit into a couple of 16 by 20 inch frames I had on hand.
After ironing the clothes flat, I carefully laid the clothes face down on the glass.  For a bit more color, I backed the clothes with a piece of green mat board before securing the bulging backs in place.
They're certainly not perfect, but I adore the little details.
Itty bitty pockets!  Mini arms that can't reach the head!
As usual, I've fallen victim to the 'if you give a mouse a cookie' syndrome, and am planning more art.  Near the garage door, I snagged a 20 by 30 inch American Bison screen print from Wolf Jaw Press.
A frame is still to come.  Oddly enough, the cello sleeve and tape aren't cutting it, but he sure is a handsome fella.
In the guest room, I'm still on the hunt for a pair (matching or not) of proportionately sized dressers to flank the bed.  Until then, I'm propping a random, rotating display of art on the dresser.
Poor, poor blank room.  Still, I'm happy to give things time to naturally come together.
Same goes for the theater room, though I do have a single piece of art to go directly ahead.
Tom Selleck, one of Ben's favorite cowboy actors and the handsome guy he is, will greet our tv watchers.
Just as soon as I make a walnut frame, thanks to the odd, custom size.  I've also been dreaming of the beautiful art from Linton Art.  I especially love the gigantic, detailed, graphic look of the Locust Tree to fill the large, empty walls of the theater room.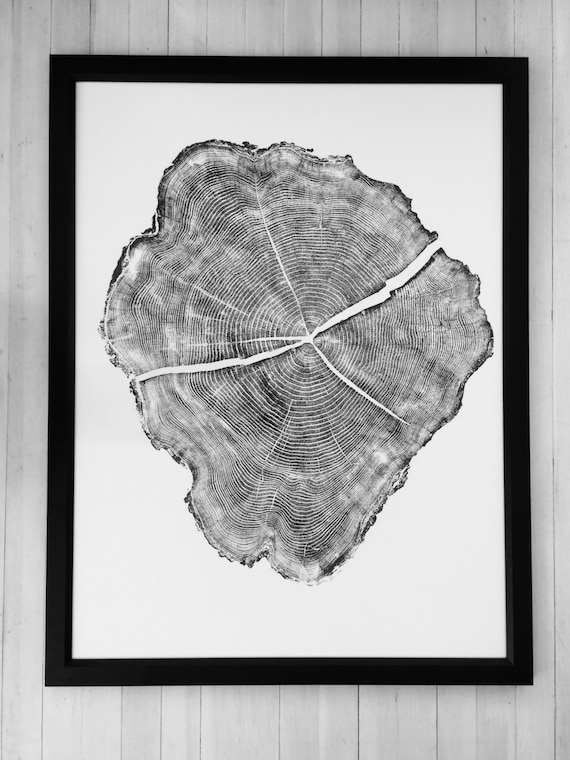 It'd be a simple, yet striking contrast against the deep green walls.  Any artful additions going on in your home?