When I left off with the bedroom changes-painting the accent wall white, updating the art and lighting situation-I mentioned needing a new bed.  Since moving in this house, we've severely lacked a real bed.  Immediately after moving in, we used a metal frame with the headboard from our old guest room, which was a slight step above a poor college student mattress on the floor look.  For crying out loud, we didn't even have a bed skirt to hide the box spring.
After getting sick of the wobbly headboard, we quickly built a platform frame with a built-in bench at the end.  Neither of us really loved it, so we never finished it off with an upholstered seat and headboard.
It stayed this way until this spring when we hacked off the bench in an attempt to salvage the frame.
So that's where we are today, with a half-finished frame neither Ben or I like.  Instead, I have plans for a new frame.  Something simple, with an upholstered headboard.  I really like the clean, simple look of this West Elm bed frame:
I'm just not sure I want that much space between the floor and the bottom of the rails, because I think our king bed would look like it's floating.  On the other hand, I think this beautiful Restoration Hardware bed is a touch too close to the floor, which would make it nearly impossible to vacuüm/clean under.  Yet again, those simple lines are what I'm after.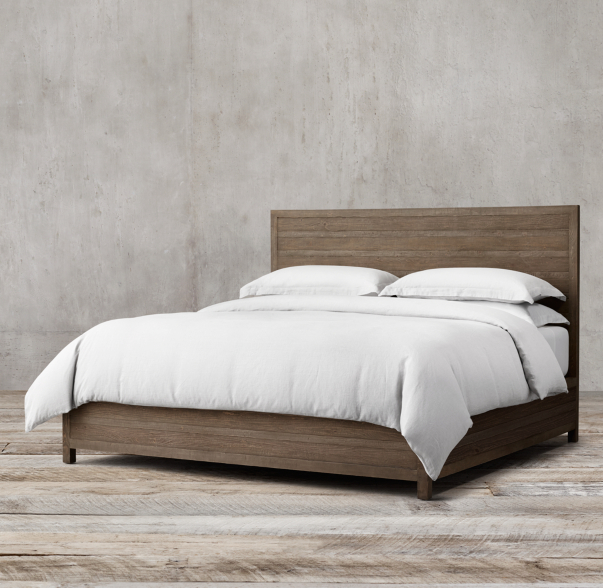 Then there's this Crate and Barrel beauty:
The proportions are great, and I love the thicker cap surrounding the mattress, but I wouldn't get the soft fabric headboard I'm dreaming about.  Oh yeah, and I'm entirely too cheap to spend $1,800 on a bed frame.  To save oodles of money and get exactly what we want, we're planning a DIY build, a modified version of the beds we built for the boys' room.
The legs and frame will look similar, but we'll add a cap over the legs to beef up the frame.  Also, the head and foot of the frame will look the same, but we'll attach an upholstered headboard to differentiate between the two.
Instead of sealed wood, I'm leaning toward white paint, to help blend in with the wall and allow the headboard to be the star.  Though a dark stained wood to match the nightstand could look nice, too.
Regardless, it'll be nice to finally have a finished bed to complete the room.  What's that lingering thing looming over your head?  Not that there's only one, in fact, I'd safely say there's one thing in each room of our house.